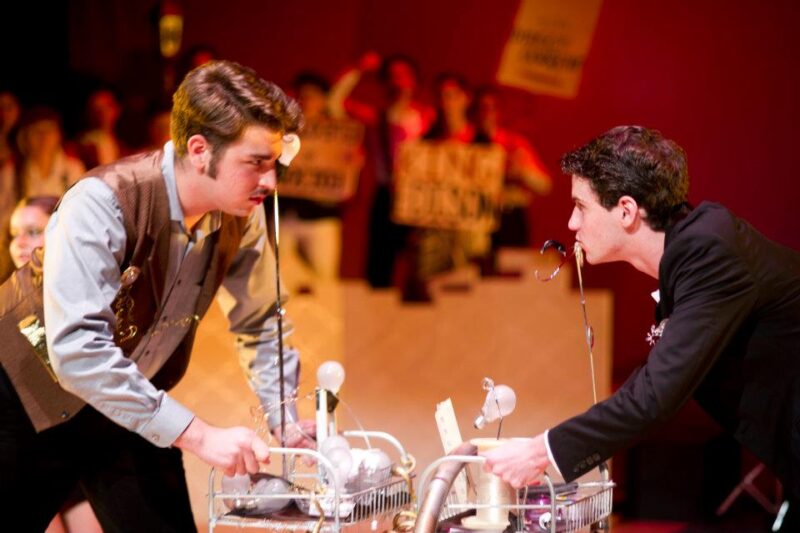 02 Oct

The Alternate: The Musical Tale of Nikola Tesla

At the turn of the century, two inventors battle to become the king of the electric age: one, the legendary Thomas Edison, the other, the largely forgotten Nikola Tesla. <em>The Alternate </em>tells the fascinating story of an immigrant with a brilliant and unusual mind, and his big dreams of perfecting the energy that powers our world. Set against the backdrop of the World's Fair of 1893, <em>The Alternate</em> details the rise and fall of a brilliant man who sacrificed everything to change our world and illuminates the legacy he left behind with an electrifying score.

&nbsp;

<strong>LICENSING FEE:</strong> $1,000 flat fee
This includes a PDF of the script (watermarked for your production), the vocal score, rehearsal performance tracks (with back up vocals). There are no other hidden fees.

<h4><span style="color: #1e2024;">Listen:</span></h4>

<iframe src="https://w.soundcloud.com/player/?url=https%3A//api.soundcloud.com/playlists/56152553&amp;color=%23ff5500&amp;auto_play=false&amp;hide_related=false&amp;show_comments=true&amp;show_user=true&amp;show_reposts=false&amp;show_teaser=true&amp;visual=true" width="100%" height="300″ frameborder="no" scrolling="no"></iframe>

<h4><span style="color: #1e2024;">Details</span></h4>

Full-length musical in two acts
Middle School/High School
Cast size: Extra Large (28-60+ roles)
12f, 10m, 6 non-specific, 32+ ensemble
*Any actor of any identifying gender is encouraged to play any role within their vocal range.