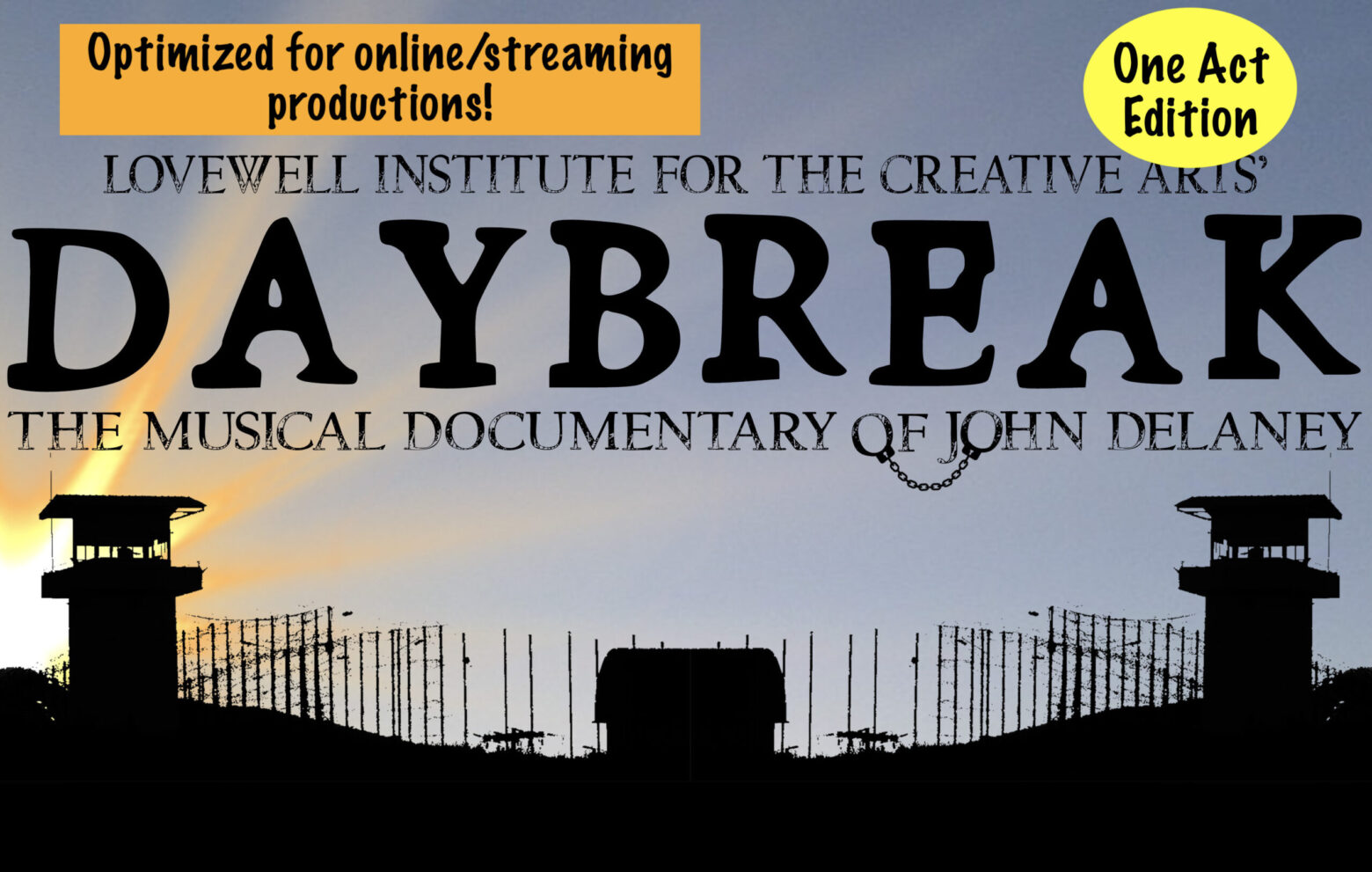 01 Oct

Daybreak: The Musical Documentary of John Delaney (One-Act Edition)

Perfect choice for streaming! The documentary-style format makes directing simple.

Should your past determine your future? John Delaney made a terrible mistake and has been serving his time for the past twelve years. On the final day of his sentence, John won't walk free. What will happen to him? Written in the style of a documentary, John's story unfolds through haunting melodies and emotional interviews and there is humor found through the eyes of the other prisoners, who all have become larger than life in his mind. Daybreak: The Musical Documentary of John Delaney reveals how a single night can change so many lives forever.

LICENSING FEE: $500 flat fee
This includes a PDF of the script (watermarked for your production), the vocal score, and professional quality performance tracks with back-up vocals. There are no other hidden fees.

MORE INFORMATION ABOUT STREAMING PRODUCTIONS

While Daybreak is not a "Zoomsical" (a musical created specifically for a video-meeting format), it is uniquely suited for a virtual production thanks to its documentary-style structure. The show is based around a series of interviews (akin to The Laramie Project), which allows for a bit more ease in filming and editing, thanks to less dialogue.

Your license gives you the full rights to perform the show any way you like, as many times as you like, within the contracted timeline. If you have a group that is allowed to meet in person but you can't hold a public performance, you can certainly perform it live for your audience via livestream. If you'd like a chance to optimize your angles for your viewing audience and have more control of the overall look and sound of the finished product, simply record the show as it is performed live, complete your filming edits, and then stream that recording to your audience.

If you can't meet with your cast in person, you can have students record their parts separately, edit the show together, and then you can stream to your audience at your designated showtime or sell tickets for on-demand viewing via a private YouTube link.

PRODUCTION HELP

If the video production process feels overwhelming, please know you're not alone. We offer support for your license via email and/or video chat anytime during your production period. While we can't always help with technical issues, we are happy to answer any other questions you may have, just send us a message at info@lovewell.org and we'll get back to you within 24 hours.

Often, editing recorded footage can be the trickiest and most time-consuming part of these kinds of productions. If you don't have a tech-savvy person to help out, Lovewell is offering a video editing package as an add-on to your license, for an additional fee. You'll simply agree upon a date by which to submit your pre-recorded footage for the show, and one of our staff members will complete the editing for your group – all you'll have to do is stream on show day.

If you'd like to include an editing package with your license, we will connect you with your editor as soon as possible, and you'll have a technical resource at your disposal.

One-Act Musical
Middle School/High School
Cast size: Large/flexible (26+, some doubling possible )
8f, 7m, 11+ non-specific*
*Any actor of any identifying gender is encouraged to play any role within their vocal range.