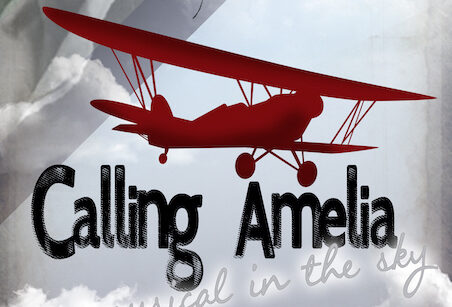 02 Oct

Calling Amelia: A Musical in the Sky

Calling Amelia – A Musical in the Sky pays tribute to the life and triumphs of one the world's most celebrated aviators. Amelia Mary Earhart had only just begun her flight career when the media seized upon her charisma, striking looks and adventurous spirit. She quickly transformed into one of America's first celebrities, thriving in a male-dominated profession at a time when gender roles were strikingly rigid. In 1937, just shy of her 40th birthday, Amelia set off on her most historic quest yet – to be the first pilot to ever circumnavigate the globe at its equator. Two thirds of the way through her journey, Amelia disappeared over the South Pacific, never to be seen again. What happened on that last flight, and what drove Amelia to constantly attempt to soar to such dangerous heights? Although courage and pathological optimism arguably cost Amelia her life, her contributions to aviation and the struggle for gender equality continue to amaze and inspire. In the words of Amelia Earhart herself, "The most effective way to do it is to do it."

LICENSING FEE: $1,000 flat fee
This includes a PDF of the script (watermarked for your production), the vocal score, rehearsal performance tracks (with back up vocals). There are no other hidden fees.
Length: Full-length musical
Best for: High School or Middle School
Cast size: Large/Flexible
Roles: 21f, 5m, 3non-specific*, (29 named roles + ensemble)
Features: Barbershop quartet, opportunities for doubling (if a smaller cast is desired) or to create a larger cast by adding additional ensemble members.
*Any actor of any identifying gender is encouraged to play any role within their vocal range.
[button target="_self" hover_type="default" text="Request License" link="https://lovewellshows.org/request-license/"]
[button target="_self" hover_type="default" text="Request Perusal Script" background_color="#0078b5″ hover_background_color="#8c0101″ link="https://lovewellshows.org/request-perusal-script/"]